Certainly, each of us would like to be spoiled by free cosmetics thanks to which we could save a bit and try out products from luxury brands. Today I have several ways for you how to get free cosmetics or samples in UK.
1. Boots volunteers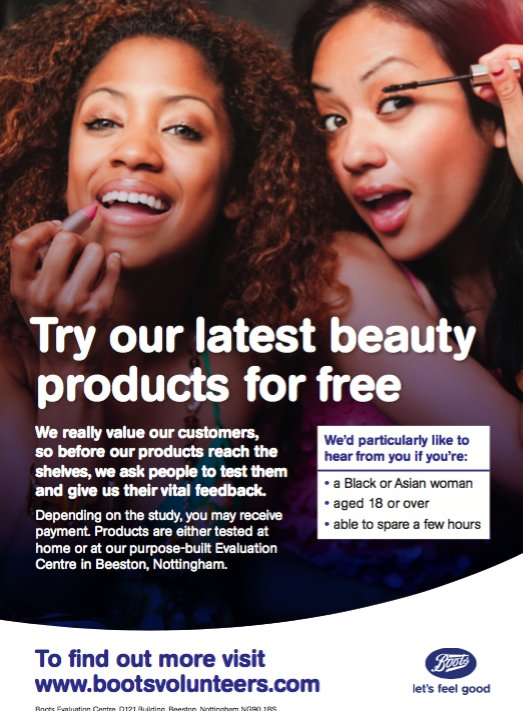 Very popular Boots drugstore has a special program for testers which sends products in exchange for an honest review. The number of places is limited and the easiest way to get chance is to sign up in end of the year. I have never qualified yet, but maybe you will succeed.
2. Beauty Club Debenhams
Here everything is really simple just join to a Debenhams Beauty Club Card what is completely free. The easiest way to do it's at the local branch store because you often have to wait a long time to get your card to home or not come at all. Every month, the store offers free samples or cosmetics that only club members can pick up in the store after showing the Club card, it can't be shown on the phone etc. only the real plastic card counts. This month, for example it was possible to receive Chanel samples but in each month it's something different. You can find more details every month on the store's website.
3. Glamour Beauty Club
From this webside you can get really great cosmetics and samples of luxury brands. So far, thanks to them I was able to test for example Nars climax and Givenchy mascaras or Laura's Mercier translucent loose setting powder. All you have to do is sign up on the website and then if their consultants find a suitable cosmetic you will receive email with the request about your details and then after some time next email with a request for expressing an opinion on this cosmetic. It does not really require an effort and you can get good, expensive products thanks to this portal.
4. Skinchemist
Cosmetics of this brand are expensive so if any of you want to check their quality, it's a good option to sign up to their tester's club. Unfortunately, you can't choose what specifically you want to try and you have to cover costs of the shipping. After some time we receive email with information where we have to add our review.
5. Magic Freebies
It's a portal with all kinds of samples, campaigns with free-of-charge items and giveaways. The biggest drawback is the fact that maybe in real 20% of the things you will sign up, actually get. Quite a few of the campaigns have promis to us that you will receive a product after 5 weeks but unfortunately this is a lie. It's possible to get something nice but you have to be patient.
Do you know any similar websites thanks to which
you can get free cosmetics?
Please let me know if you receive something thanks to this post😁
Have a nice weekend❤❤