Anastasia Beverly Hills Riviera / Dupes From My Collection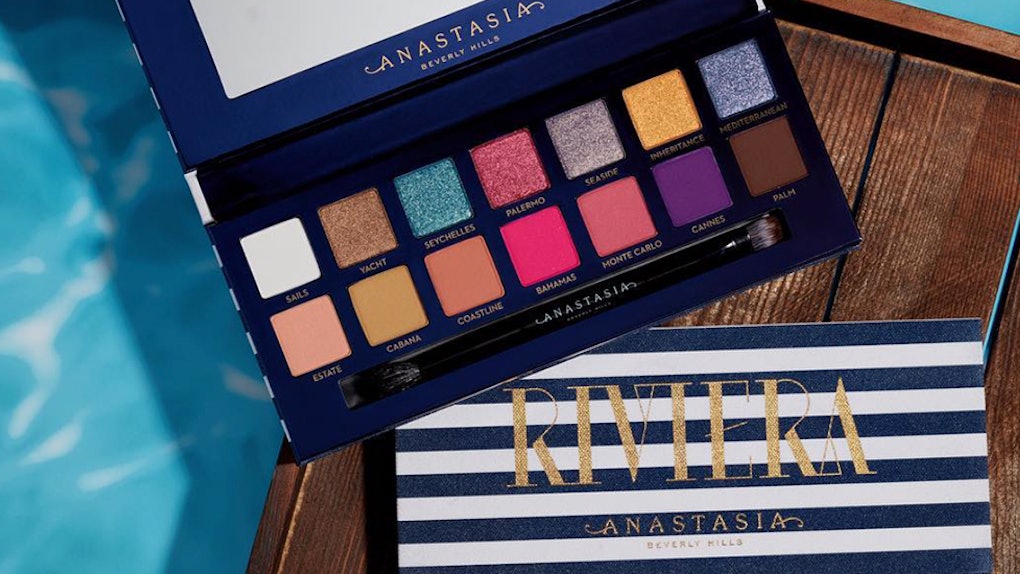 Riviera the latest Anastasia Beverly Hills palette conquer the beginning of the year and I have the impression that everywhere I see her photos, swatches and make-ups made by using this palette. So I decided to check if really has so unique shades or are they will be easy to replace / duplicate with the eyeshadows from my collection. If you are interested in such an experiment and what the result was, I invite you to the rest part of the post.

On the cosmetics market there are brands whose products everyone loves and have a lot of loyal fans. Definitely Anastasia Beverly Hills pallets are one of the most popular in the world and I have a kind of impression that sets trends. After launching Subculture many more palettes appeared with green, yellow and mustard shades. Unfortunately, their prices increase almost every year because until recently they could be bought for £35, £38, while the current cost of the latest pallets is £45 for the same weight.
Almost £50 is for me too high price for a eyeshadow palette, the more that there are many cheaper brands on the market that offer great quality of shadows such as Juvia's Place, Bh Cosmetics or Nabla. That's why as soon as the swatches and photos of the new Riviera appeared on the Internet, I looked at my collection in search of alternatives to these shades. It is a really great method thanks to which we can see if we will actually spend our money well or if the new thing will bring much more options / diversity to our collection.
True Swatches Found Online
Dupes From My Collection
I Used
1. Revolution Reloaded Newtrals 2
2.

Elizabeth Arden Word Of Colour- Coffee Beans with
Blush Tribe The Malika- Safina
3.

Huda Beauty Electric Obsessions- Blue/ Green Last Row
4.

Makeup Obsession E130 New York
5. Juvia's Place The Magic- Vai
6.

Juvia's Place The Magic- Nubia
7.

Mua Poptastic- Last Blue
8.

Colourpop Yes Please!- Champs
9.

Revolution Iconic Division - Yellow Last Row
10.

Melhior Soft Peach
11.

Huda Beauty Electric Obsessions- Pink Shade Second Row
12.

Blush Tribe The Malika- Henna
13. Juvia's Place The Magic- Ife
14. Nabla Soul Blooming- Caravaggio
Comparison
I think it went really well😀. By accident the last shade is the first on my photo and the dupe of Monte Carlo is after Cannes.
Let me know, what do you think are these colors are similar for you and are you planning purchase this palette?